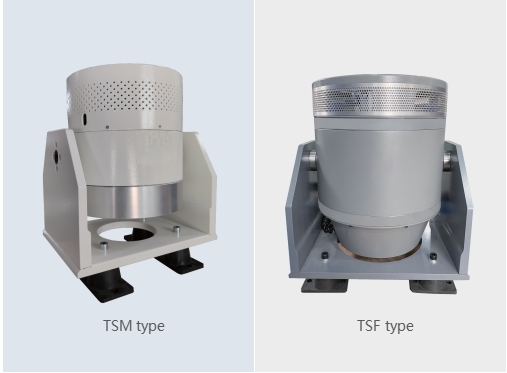 Standard Series Vibration Test System
Standard series vibration test system is a personalized product for designers with the characteristics of small size, compact structure, low energy consumption, easy installation, easy operation and convenient movement, which is suitable for educational, research and laboratory environments. It is widely used for vibration resistance test, fatigue test and mechanical impedance test of tiny components.
Standard series vibration test system is categorized as permanent magnet type (TSM) and field coil type (TSF) based on different exciting source. The main difference of which lies in the way to generate the magnetic field environment: TSM type builds a stable magnetic field through the permanent magnet component; TSF type forms a magnetic field by energizing the field coil.
Vibration or shock motion is generated by the shaker in response to an amplified drive signal that originates at the controller. The accelerometer will provide the collected signal to the controller for real-time correction, and send back to the power amplifier.

Model
TSM-050
TSF-050
Rated sine force (N)
500
500
Frequency range (Hz)
5~6,000
5~10,000
Max. displacement (mm)
10
15
Max. velocity (m/s)
1.2
1.2
Max. acceleration (m/s2)
300
300
Max. load (kg)
3
20
Mass of moving elements (kg)
1.5
1.7
Armature diameter (mm)
Ф95
Ф120
Shaker mass (kg)
40
95
First resonance fre. (Hz)
5,000(nom.)± 10%
5,000(nom.)± 10%
Power Amplifier Model PA-1200
Power requirement (VA)
AC220V+/-10%,1300VA
Power amplifier mass (kg)
About 29
Dimension (mm)
480*460*135